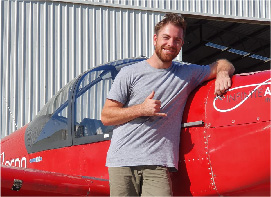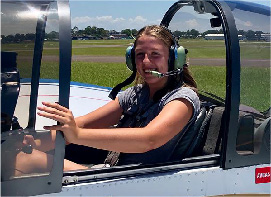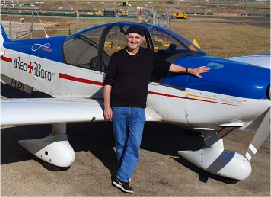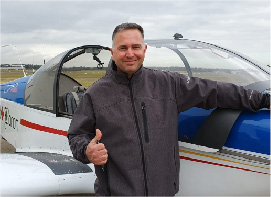 Some of our students celebrating after first solos and Flight Test passes
Recreational Pilots Licence (RPL)
…Take friends and family for scenic and aerobatic flights
Get Your Pilot Licence with Sydney's Trusted Aviation School
A Recreational Pilots Licence allows you to take your friends and family flying within your local flying area.
The Aerobatic Schools RPL is a little more unique however. Our RPL holders are able to fly aerobatics, to spin and recover, and to fly all normal manoeuvres to a high standard. And they get to carry their family and friends whilst doing it!
Training Beyond the Minimums
The Aerobatics Schools RPL course incorporates all the elements of our Basic Aerobatic Rating and Upset Prevention and Recovery Training (UPRT) course. When you graduate you will have not only met the minimum standards for the licence but you will have been trained to The Aerobatic Schools high standards for Aerobatics and Upset Recovery.
The first 30 hours of your flight training are the most important flying you will ever do! During this time you will learn the fundamental skills, control techniques and mental attitudes with will form the rest of your future flying. We believe that it is invaluable that you learn the best of these from lesson one.
Full Package
The Aerobatic School has the facilities, staff and experience to guide you through the process of getting your Recreational Pilots Licence. As you start your journey into the world of aviation it can feel like there is a sharp learning curve. We will be with you every step of the way and our team is always available to offer support when you need it.
Course Cost: $17,000*
*The Aerobatic Schools RPL course is based on our custom syllabus that includes 27 hours of dual instruction and 7 hours of solo flight. We have also included tutorials and briefings, Airservices Australia and airport landing fees and charges in this estimated total. The course is competency based. This means that while most students complete the course in the quoted hours, before we can recommend you for the licence you need to demonstrate the competency standards.
Private Pilot Licence (PPL)
…Build on the skills you learnt in your RPL and start navigating around Australia.
Imagine flying your family and friends to the Hunter Valley for lunch, sight seeing over Sydney Harbour, or taking them for a flying trip to see Uluru. Well you can once you have a PPL! Australia is a very large country with almost every conceivable type of terrain, weather conditions and airways procedures. The Aerobatic Schools PPL Course is designed to maximise your capacity as a pilot to navigate unfamiliar terrain with confidence.
Proven Techniques
Our course utilises simple yet very effective and proven military navigation techniques which make you a far more competent cross country pilot. With the attainment of your PPL you will be able to navigate anywhere around Australia with confidence and show your friends and family the amazing places and sights our beautiful country has to offer.
Three Phase Syllabus
Our PPL course is divided into three distinct phases which includes 8 dual and 3 solo cross country navigation exercises.
PHASE ONE – Covers pure navigation techniques. Each lesson is conducted outside controlled airspace to minimise procedures so you can learn to navigate properly from the beginning.
PHASE TWO – Consists of low-level navigation techniques.
PHASE THREE – Focuses on controlled airspace procedures and radio navigation aids. At the conclusion of phase three you are ready for your license test and ready to navigate confidently anywhere in Australia.
Course Cost: $11,500*
*A RPL licence is required before starting the PPL course. The Aerobatic Schools PPL course is based on 20 hours of dual flying and 8 hours of solo flying. The estimated cost Includes all briefings, Airservices Australia and airport landing fees and charges. It  does not include the PPL flight test. The course is competency based. This means that while most students complete the course in the quoted hours, before we can recommend you for the licence you need to demonstrate the competency standards.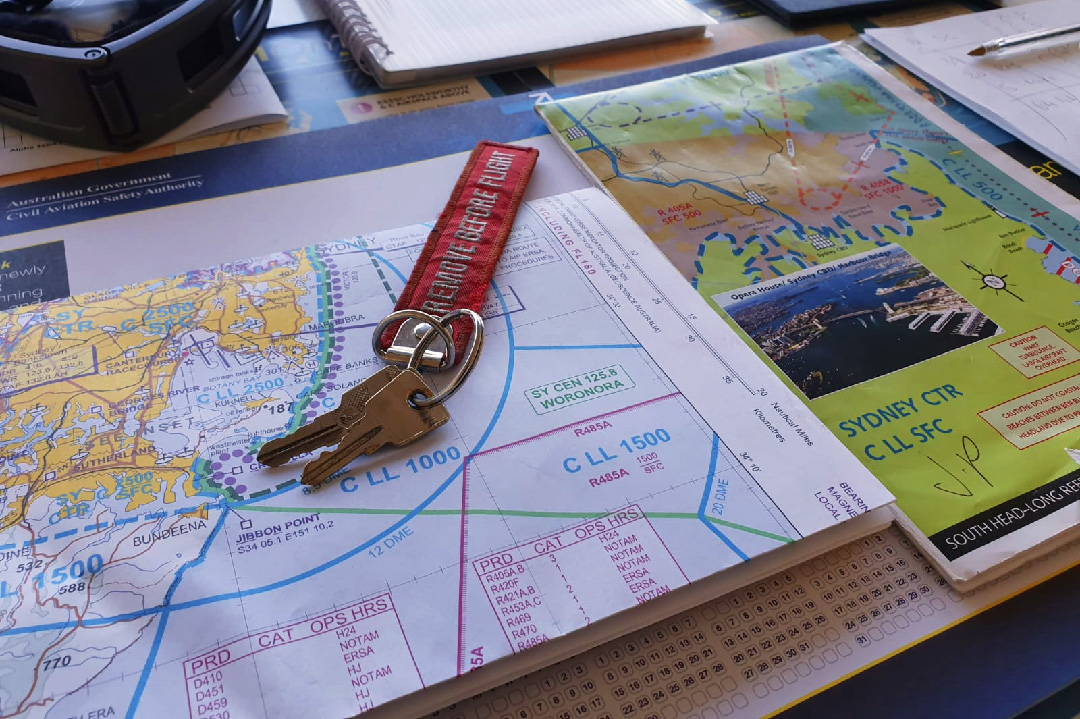 Left: Clouds Over Mudgee, 9500ft. Right: Sydney Harbour Scenic, 1500ft
Top: Clouds Over Mudgee, 9500ft. Bottom: Sydney Harbour Scenic, 1500ft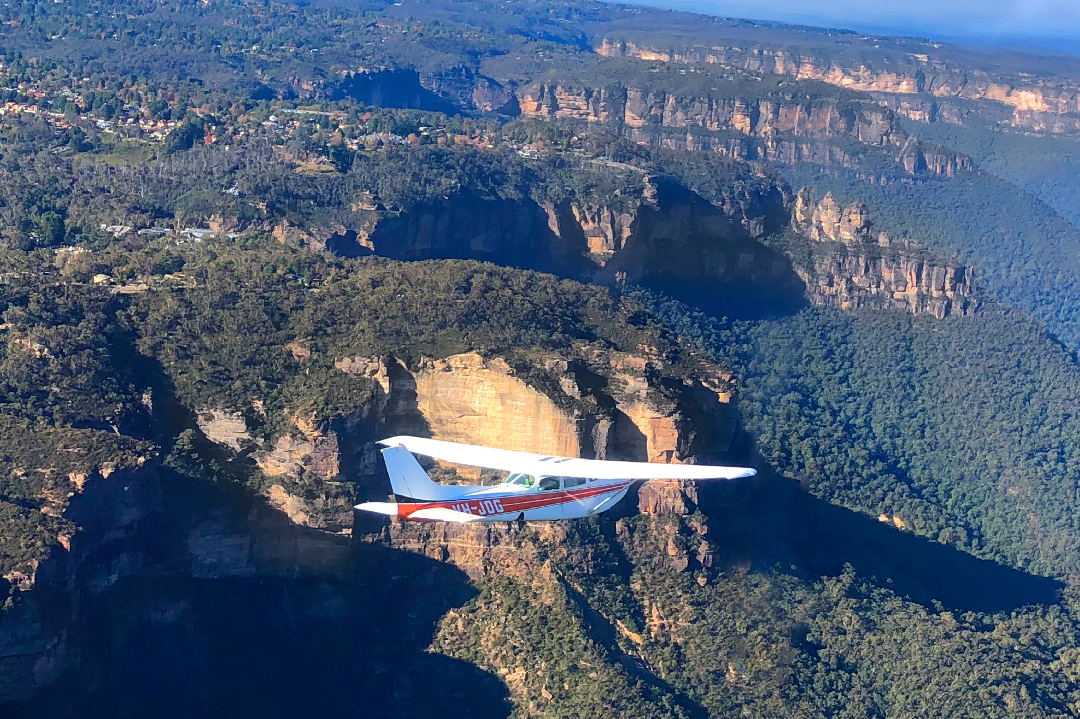 Commercial Pilots Licence (CPL)
…Sharpen your skills to a commercial standard
Already have a Private Pilots Licence and have (or nearly have) 200 hours logged? Thought of getting your CPL? The Aerobatic School can prepare you for the CPL, including the necessary theoretical and practical components of the licence.
Scenario Based Training
Our CPL training focuses on scenario based navigation exercises. During this training you will be given tasks a commercial pilot may be required to undertake in an operational environment. Throughout your training you will be exposed to a wide variety of commercial situations, such as charter, aerial survey, photography and joyflights. We will give you the experience and skills necessary to make your transition to commercial flying as smooth as possible. Commercial considerations like managing passengers, efficiency and time management and working in a commercial environment are also covered.
Ground Theory
Before a student can be recommended for their CPL flight test, they must pass seven CPL theory exams. These include Navigation, Meteorology, Human Factors, Flight Rules & Air Law, Aerodynamics, Aircraft General Knowledge (AGK) and Operation, Performance & Flight Planning.  These can be self studied or studied in a variety of ways including one on one tuition with The Aerobatic Schools instructors.
Night VFR
Our CPL students also undertake training for a Night VFR Rating during their CPL course.  There are a number of advantages in doing a NVFR Rating at this point in your training.
Employers look at holders of Night VRF Rating more favourably as you are not restricted to day only operations.
The instrument flying and navigational aid activities you will practice during this training will assist you during your CPL flight test and future flying.
Cost
As applicants have varying experience its difficult to provide an overall, estimated price. For more information on the pricing of the CPL please contact us and include your experience to date so we can give you the most accurate estimation.
Book Your First Lesson Today
Selecting a flying school and an instructor for any type of aviation training is critical to your success as a pilot.
Here at "The Aerobatic School" you can rest assured that all of our pilots and aircraft are of the absolute highest standard. In fact, we believe that we set the standard in aerobatic training in Australia.
If you have any questions at all please reach out to us with the form on this webpage or if you prefer to speak with a real person then give us a call on 02 9791 0643. Let's make a plan together to work out exactly what it is that you are seeking to do and get you started. We look forward to flying with you…

From Beginner to Advanced & Everything In-between